New features are often the foundation for a new, brilliant invention. However, features don't succeed without the right form design.
When a new concept is born, a huge part of the development is often getting new features and functionalities to work together smoothly. The features have to improve the problem-solving from previous concepts, which is a huge task on its own.
However, before a product is released, the features have to merge with the proper form design. There is always some tactility and interfaces that the users have to be able to decode instinctively for the features to be accessed right away.
Over the years, we have become increasingly obsessed with this discipline in parallel to the features.
Not for decorative purposes
Most of our inventions are aimed at building sites, and they have to look and feel right for that environment. More importantly, however; it has to feel good for the user, and the design has to support the features to make it easy to use.
We don't do design for decorative purposes. We do it to help convey the features. And we always have to ask ourselves, if we have done the job well enough.
As design engineers, we initially focus on the features of the concept. But we know that we have to do the form design of the product in parallel. In the end, features and form design are equally important, and they have to work together. You can't just have the best features and don't worry about design; even the world's best features don't work as a concept if the form design is too poor that the user can't figure out how to use it.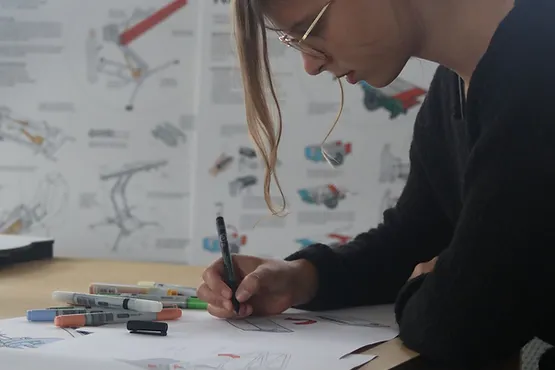 One stop shop
As a one-stop-shop for product development, we pride ourselves on taking an idea all the way from problem to manufacturable, industrial product.
While developing both features and form design in-house is a challenging balancing act, it also comes with some clear advantages.
First of all, getting features and form design to work together is an iterative process, and because we do them both we don't run into bottlenecks with every iteration – which makes the process way more effective.
Secondly, our in-depth knowledge about and respect for the features makes it more intuitive for us to transform it into the right design language – as well as the other way around.