Our collaboration with Nordic Tech Tools has been a special partnership from the start, and we expect great things from the partnership in the future.
A long time ago, Jonas Møllenborg helped test our invention Upclimber when it was in development. At the time, he had his own carpentry company, and the test partnership meant that he got to know Upclimber intimately. And he was apparently thrilled.
When Jonas was ready to sell his carpentry business, he decided to start Nordic Tech Tools to produce and sell tools for the construction industry. "The timing was perfect because we were in the process of finding a manufacturer and distributor for Upclimber.
In this way, we helped establish the company Nordic Tech Tools with Jonas, set up the brand and mission – and delivered the first product to the portfolio.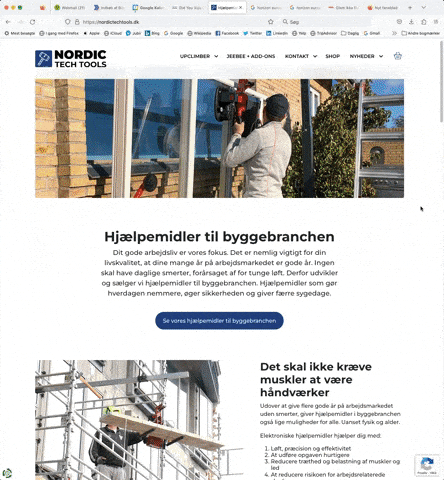 International ambitions
We brought the first product and some knowledge of manufacturing the solutions and combined with Jonas' unrivalled industry knowledge, the partnership with Nordic Tech Tools has been a success from day one.
Since then, Nordic Tech Tools has become a supplier of other new products – including Jeebee, which we also invented.
So far, there are two of our products in Nordic Tech Tools. There is a solid foundation in the company, which was started from scratch. But despite this, we have great confidence in their ability to both produce and sell our products. The big, international ambitions are sure to get legs – and we actually have a third product on the way, which we also expect to end up in the Nordic Tech Tools portfolio.
Just like last year, Nordic Tech Tools will soon be embarking on a major tour, Arbejdsmiljøtræf, where they will be visiting Danish vocational schools from the beginning of September.
Be sure to stop by Nordic Tech Tools at https://nordictechtools.dk/