Working environment for the construction sector is on a tour all over Denmark – and our inventions play a significant role.
The Safety and Health Preventive Service Bus for the Construction Sector (Byggeriets Arbejdsmiljøbus in Danish or simply Bam-Bus for short) is currently touring all over Denmark to promote a better working environment in the construction sector alongside The Industry Community for Working Environment in Construction (BFA Bygge og Anlæg).
On the tour, both students and local businesses are invited to learn about a better working environment.
Basically, Bam-Bus showcases various technical tools which improve working conditions. Produced mainly by a small group of companies, we are proud to say, that four of our inventions – equivalent to around 30 per cent of the products – are invented by Lolle & Nielsen Inventions alongside different partners.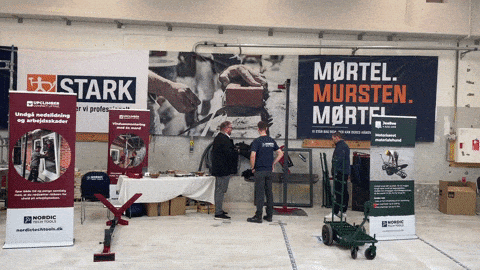 Four inventions on show
When we visited the caravan in Næstved a few weeks back, it was truly amazing to see both Smartcutter, Smartmover, Upclimber and our new JeeBee as part of the selected display. Inventions made in collaboration with 3 different partners – and another stamp of approval for our work.
It's great to experience first-hand how warmly the working environment consultants speak of our inventions. It's even more fun when we visit as an independent consultant: We don't have to sell anything, we are free to just talk about what we do, and get feedback on what works and what can be improved before returning to the inventor-cave.