We are inventors, but we also have a business to run. This means we can't rely on occasional light bulb moments but have to approach inventing with a systematic business approach.
Your stereotypical inventor might only be driven by tinkering toward the next, big breakthrough invention. Something so unique yet ubiquitous that the royalties will make a fortune for decades to come.
Those inventions and inventors are, however, incredibly rare. This means we quite commonly get asked "How do you actually make money?"
As an inventor studio with a few handfuls of dedicated employees, we obviously must have a somewhat consistent revenue. And we do this by approaching inventing systematically through three primary income streams: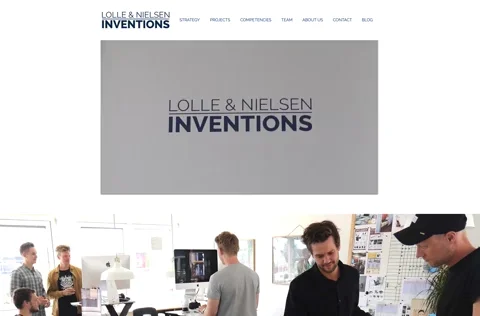 1) Consultancy
A significant part of our business still relies on consultancy gigs where we help clients with everything from ideation to concept development to making their inventions ready for production.
It's an important part of Lolle & Nielsen Inventions – and not just in terms of income.
Oftentimes, these consultancy project opens new paths. Paths where we learn something new we can use in our development, meet new potential partners to work with or even end up partnering on an invention after starting as a consultant.
Example: Smart Zoo-bike Path with Egedal Municipality
2) Royalties
Here, we often work closely with a partner from the get-go. The difference is, that we also have skin in the game: We don't get paid to do the job but expect to recoup our initial investment further down the road through royalties.
The initial idea can come from us or from a partner who reaches out to get the development process flowing with us as a partner. All partners bring something different to the table to make the transition from idea to market as smooth as possible.
This kind of development is driven by investments (internally or externally) and grants to cover the initial expenses. This makes it longer-term investments with an expected revenue that is both bigger and potentially flowing years after we've completed the development.
Example: Smart//Mover and Opløft
3) Soft money
When we are aiming a really big product which has the potential to make a big impact and solve some big issues like climate change, we heavily relly on soft funding to make the inventions reality.
Eventually, we still want to find partners for those ventures. But we take the full development risk initially, which makes it the riskiest kind of project – close to impossible without the soft funding – but also those with the biggest, potential upside and impact.
Example: Conhoist with softmoney from Miljøstyrelsen and Eurostars.
A strong foundation
We keep finding hybrid versions of the three, but the bottom line is, that splitting our attention into these three avenues has proven a very strong and consistent foundation for Lolle & Nielsen Inventions. It has given us enough assets to start on top of a financial crisis in 2008 and push through several covid lockdowns without any layoffs.